Behavioral Health Care Center
Click on our tree of hope.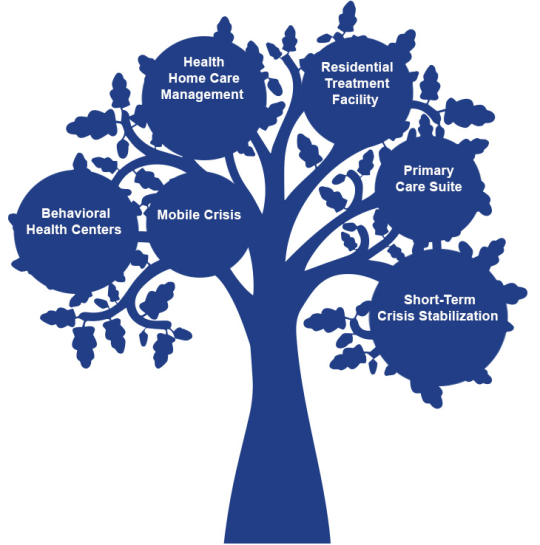 Our experts provide personalized clinical, community support and services coordination designed to improve the health and overall wellbeing of youth in the community.

The Residential Treatment Facility (RTF) is an intensive residential treatment option licensed by the New York State Office of Mental Health (OMH) to serve youth age 12–18 who have exhibited mental health symptoms with a pattern of psychiatric interventions and hospitalizations.

Our Mobile Crisis teams are rapid-response teams deployed in the community to help children, adolescents, adults, and families safely deal with behavioral health crisis situations.

Outpatient mental health facilities in Albany, Schenectady, and Malta provide help to children and adults with challenges including anxiety, depression, mood disorders, trauma, school behavior difficulty, coping with loss, bullying, and suicidality.

Short-Term Crisis Stabilization and Treatment is a short-term, community-based, 24/7/365 therapeutic treatment option for youth ages 12–17 experiencing acute stress or mental health or psychiatric crisis.

Your child, your team, one location
Situated on Northern Rivers' historic Albany campus at 58 Academy Road, the Behavioral Health Care Center serves families whose children have complex behavioral health needs or who experience a mental health crisis, by bringing many of our existing services together under one roof. These services include screening, assessment, care management, crisis response, and treatment as needed, which allows us to better integrate our current behavioral health services with other critical forms of basic health and behavioral health care. [Infographic]
The facility also replaces our existing Residential Treatment Facility (RTF), a New York State Office of Mental Health–licensed inpatient treatment program for children and adolescents. This new home for the RTF allows for more effective and intensive treatment interventions with enhanced community integration and family engagement that, as a result, supports children and youth to safely return to their homes and communities as soon as they are able to do so. [Brochure]