Behavioral Health Care Center
ONE child, ONE team, ONE location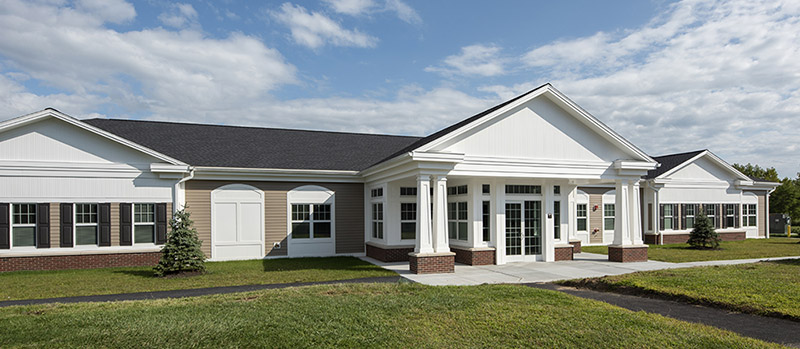 The Concept

The Behavioral Health Care Center represents an innovative concept that will change the way children and families engage with the services delivery system, integrating services under one roof and improving communication and efficiency.
The Facility
This 26,000-sq.-ft. one-story building will include two major areas: clinical services suites and residential suites.
The Services
Therapy and counseling suite features licensed behavioral health professionals.
Medical suite provides space for a health- care practitioner, psychiatrist, nurse practitioner, and/or registered nurse.
Crisis management suite for our mobile crisis triage and response team.
Suite for care managers who assess, refer, and link children and families to other services.
The Residential Suites
Four living units, each featuring:

Five furnished single bedrooms
Shared living and activity areas
Two private bathrooms
A calm room specially designed to help children de-escalate during times of stress

One unit dedicated to short-term crisis stabilization
Nurses' office
Meeting rooms for families
Full-service kitchen with dining area for 50
An interior courtyard and outdoor recreation space
The Result
Residential Treatment Facility (RTF): A contemporary, comprehensive residential mental health program for youth and young adults ages 12–21.
Short-term Crisis Stabilization: Suite includes overnight services for children who need intervention, but who are not at immediate risk for self-harm.
Mobile Crisis Services teams: Rapid-response interdisciplinary teams that address mental health crises for children and adults in the home, school, and community.
Health Home Care Management: Guidance, support, and assessment for children who may be eligible or who are already enrolled in a Health Home system.
Outpatient Behavioral Health Clinic: With the capacity for integrated primary care and the potential to integrate other services, the clinic incorporates psychological assessments, and primary care.
FAQs
Click on each question for the answer.
Why are you undertaking this project?
Models of care continue to evolve to meet the needs of our communities. Integrating services to efficiently provide better outcomes for children and families is the key to our future.
How do you plan to pay for the building?
We have received a dedicated $4.2 million grant from New York State and will raise the remaining $5.7 million through private or public financing and community philanthropy.
How will this change the way you serve children and families?
By integrating services including the current short-term residence, mobile crisis response services, a behavioral health clinic, health home care management, primary care, and substance abuse services, clients will receive the right concentration of care under one roof, which will greatly improve both efficiency and outcomes. This reorganization of services will give us the flexibility to right-size services to meet patient demand.
Will more people be employed on the Albany campus because of the new facility?
The service design for the new facility calls for integration of programs, impacting staff from those programs currently located on campus and in other Albany offices. While we do not anticipate hiring any new staff, shifting resources among our other locations leads us to expect a modest 10 percent staffing increase on the Albany campus.
How will this affect recreation for children on campus?
We are acutely aware that people live, play and work here. We pledge to ensure not only that current open space is preserved, but also that new outdoor space will be utilized for recreation. We are confident that the finished product will result in an aesthetic upgrade for the entire campus.
How will you ensure the safety of the local residents?
For more than 100 years, we have been a proud part of our neighborhood. The safety and comfort of everyone in our community has always been at the forefront. As a resource available to the entire community, this new facility will in fact enhance safety for all.
Who will handle the construction process?
We have engaged a team including BBL Construction Services as our design/build contractor WCGS Architects, and Huston Engineering. All are local companies with extensive experience on projects like this.
Do you have enough space on campus to add another building?
We have sufficient space on our nearly 20-acre campus to seamlessly integrate this new facility with the rest of our campus in keeping with the aesthetically pleasing, neighbhood-friendly environment we have maintained since 1907.
How close to the road will the new building be? Will this increase the level of noise, especially during the evening hours?
The new building will have a substantial set-back from the road, further than existing curbside buildings. It will adhere to all local code and environmental standards with appropriate offset from the road.
What about the traffic during the construction phase? And where will all the construction workers park?
As the campus will continue to fully function during construction, we are cognizant of the need to preserve and maintain access. The construction perimeter wall will allow enough space for construction workers to park right on campus. We will strongly discourage on-street parking by staff and construction workers throughout the build.
What about the level of noise during the construction phase, particularly during evening hours if you plan to have people working through the evening?
Children will continue to live and study on campus, and we will take every step necessary to ensure that our residents and or neighbors do not face undue noise. Regular hours of construction will be Monday through Friday, 7:00 a.m. – 4:00 p.m. In the event that construction must occur outside of these hours, our contractor will obtain permission from us in each instance, and we will post notices on our website in advance of the work.
Have you thought about the traffic congestion this new building will cause in the neighborhood? Our narrow streets are already difficult to navigate, particularly at rush hour.
Because this facility is a replacement for one of our current residences, we do not anticipate increased street traffic. Enhancements to campus accessibility and the addition of extra on-campus parking will minimize any additional congestion.
Will you have enough parking?
Yes. Our architectural study has taken into account concerns about parking, and with the addition of 40 new parking spaces we are certain that the campus can fully support this new facility.
When will the building open?
We expect to have the facility functional by mid-2019.
Whom can I contact if I have a question or concern regarding construction?
Our project manager is available to answer questions and may be reached at 518.429.4459 or
This email address is being protected from spambots. You need JavaScript enabled to view it.
and he or she will respond within one business day.
Who are your partners in this project?
Initial grant funding came from the state Department of Health. Programs are licensed by the state Office of Mental Health. We will partner with outside organizations to provide the primary care and substance abuse services in the new facility. As with every other venture, we pursue partnerships with organizations that share our mission to help improve our communities.